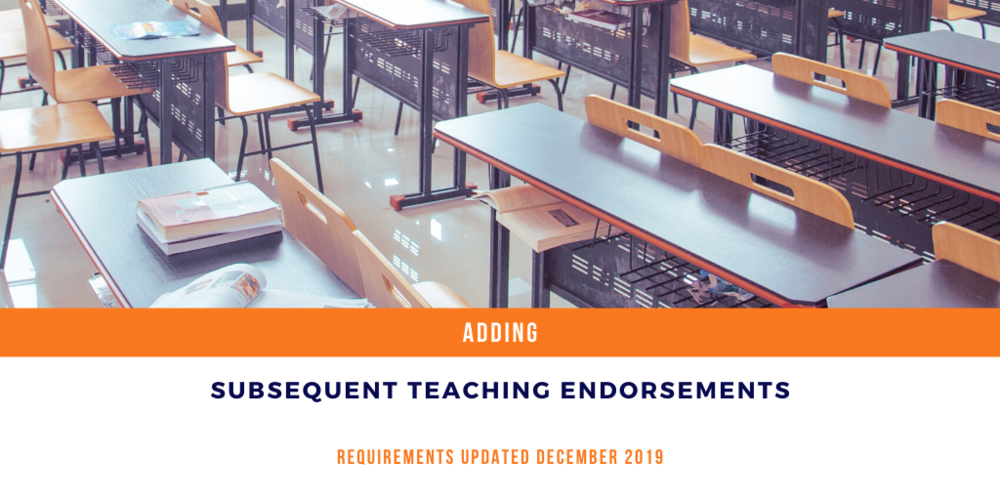 Adding Subsequent Teaching Endorsements to your PEL
ROE 9
Friday, January 10, 2020
Educators with a Professional Educator License (PEL) or Educator License with Stipulations endorsed in a teaching field can add endorsements at any grade level even if the underlying teaching endorsement on a PEL is a different grade range. Please see the updated Subsequent Teaching Endorsement information on the ISBE website.
The following endorsements can be added at any of the available grade ranges by passing the content test and completing 18 hours of coursework in the content area.
Agriculture*
Art*
Business, Marketing, & Computer Education
Business, Marketing, & Computer Education Programming
Business/Marketing/Management*
Computer Applications*
Computer Science*
Dance*
Drama/Theatre Arts
English Language Arts
English as a New Language
English as a New Language – Bilingual Education
Family & Consumer Science*
Family & Consumer Science – Apparel & Textiles
Family & Consumer Science – Living Environments
Family & Consumer Science – Nutrition, Wellness, & Hospitality
General Science*
Health Education*
Industrial Technology*
Language Arts*
Library Information Specialist
Mathematics*
Music*
Physical Education*
Science – Biology
Science – Chemistry
Science – Earth & Space Science
Science – Environmental Science
Science – Physics
Social Science*
Social Science – Economics
Social Science – Geography
Social Science – History
Social Science – Political Science
Social Science – Psychology
Social Science – Sociology & Anthropology
Technology Education (Industrial Arts)
Technology Specialist
Theatre/Drama*
Visual Arts
World Languages
*Middle Grades (5-8) endorsements must include content specific methods coursework within the 18 hour content coursework requirement.
Educators can also apply via reciprocity for endorsements listed on a valid, comparable out-of-state license.