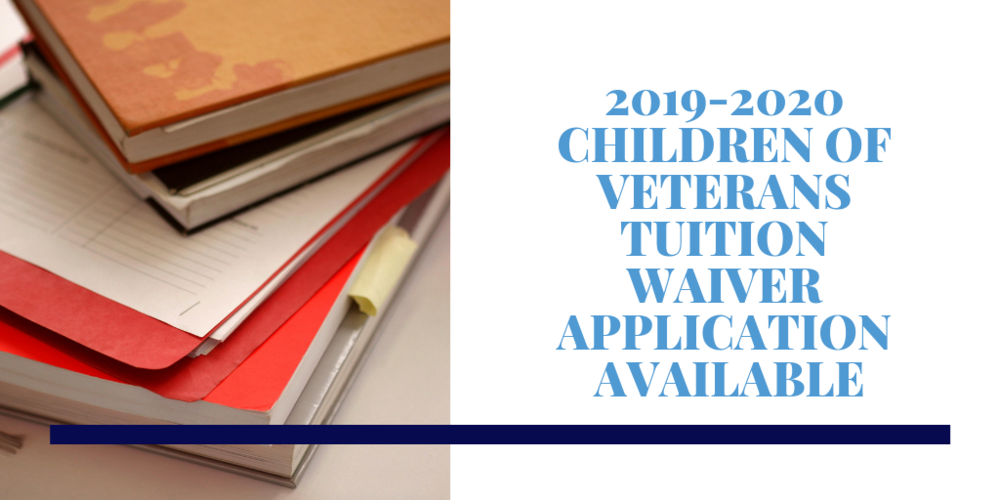 2019-2020 Children of Veterans Tuition Waiver Application Now Available
ROE 9
Wednesday, November 07, 2018
PLEASE SHARE THIS INFORMATION WITH ALL HIGH SCHOOLS AND POTENTIAL UNIVERSITY OF ILLINOIS STUDENTS IN YOUR REGION.

The application for the 2019-2020 Children of Veterans Tuition Waiver is now available online. Please refer to our website, osfa.illinois.edu. The applicant will need to print out the application and mail it to our office with the required documents. A copy of the application can be downloaded here.
The Children of Veterans Tuition Waiver is a four-year in-state tuition waiver at the University of Illinois. The recipient may use his/her Children of Veterans Tuition Waiver at any of the University of Illinois campuses (Urbana-Champaign, Chicago, Health Sciences Center, or Springfield).

One award is available per conflict in each county, but the maximum number of awards per county is three. The following are eligible conflicts for this award: World War II, the Korean Conflict, the Vietnam Conflict, the Siege of Beirut, the Grenada Conflict, the Southwest Asia Conflict, Operation Enduring Freedom, and Operation Iraqi Freedom. Specific information regarding the required service dates and medal eligibility is provided on the application itself. The application also outlines the selection criteria that will be used to determine award winners.
The priority deadline is January 2, 2019. Candidates must submit the completed application with photocopies of both the veteran parent's service papers (DD Form 214) and the student's ACT or SAT scores to our office.
All candidates will be notified by mail on or around March 7, 2019 whether they have been selected to receive the Children of Veterans Tuition Waiver. We appreciate your continued assistance in providing applications and information about the Children of Veterans Tuition Waiver to students.
If you have any questions, our Financial Aid Administrators will be happy to assist you. They can be reached by phone at 217-333-0100.

Thank you,

Office of Student Financial Aid
University of Illinois
620 E. John Street MC-303
Champaign, IL 61820
Customer Service 217.333.0100
Electronic Fax 217.265.5516