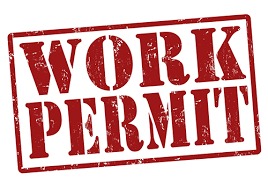 FOR ISSUING OFFICERS ONLY
PROCEDURES FOR OBTAINING A WORK PERMIT ARE AS FOLLOWS:
Parents and employer read the excerpts from the Illinois Child Labor Laws

Call to set up an appointment for a work permit - 217-893-3219. Appointments can be in-person, phone call or zoom.

Please provide all the required documentation as noted below.

Parent and minor must be present at the Work Permit appointment.
Staff will review documents with the parent/guardian and minor.
INTENT TO EMPLOY LETTER
A letter from the prospective employer on letterhead stationery, signed by the employer or agent, stating the type of work and work schedule of potential minor.

PROOF OF AGE (ORIGINAL)
An original birth certificate issued by the city, county, state or hospital is preferred. If the original birth certificate is not available, we will accept one of the following: Baptismal certificate, passport, insurance policy or notice of birth registration.

ORIGINAL SOCIAL SECURITY CARD

VALID DRIVERS LICENSE OF PARENT/GUARDIAN

PARENTAL APPROVAL
A signed written statement from the parent or guardian approving the child's employment.

MEDICAL STATEMENT (NOTE FROM PHYSICIAN)
A signed physician's statement on the physician's or health institution's letterhead indicating based on an examination performed within one year of the date or work permit application, the child is physically fit to be employed in all legal occupations.

PRINCIPAL'S STATEMENT (WAIVED DURING SUMMER MONTHS)
A signed principal's statement on school letterhead stationery verifying the school-age child is active and in good standing academically at school when school is in session.

PROOF OF COOGAN ACCOUNT (Blocked Trust Account)
Applies to minors applying for a performing, acting, or modeling work permit.
Examples of financial institutions to offer these accounts:
Actors Federal Credit Union
Wells Fargo
Bank of America​​​